THD0100
TRUEAV HyperLink DVI 10M
HDMI ATC 1.3b certified. Diecast plug, 1080P Guaranteed 100%





TrueAV HyperLink DVI,HDMI cable features advanced construction and design for the highest quality image and sound reproduction and maximum reliability Also, Copper based cables with max lengths of 25m.

중간 가공이 필요없는 순수한 구리도체(Copper)로 호환성이나 특성문제없이 1080P 신호를 그대로 전송합니다.

TRUEAV HyperLink series are ATC certified for the purest picture (supports up to 1080p) and digital audio signals. The exclusive RF-Blok™ cuts out unwanted RF interference. Unlike other HDMI cables, TrueAV cables use larger, shielded twisted pair wires (26 AWG), gold plated connectors, a solid metal termination housing and a braided cable sleeve for cable quality that is second to none. For a secure cable connection, add the optional TrueAV Audio SupraLok connectors.

The HDMI CL2 cables support the following resolutions: 480i, 480p, 720p, 1080i, 1080p.


HDMI 1.2 and HDMI 1.3 CAT 1 HD 1080p compatible
Full support for high definition video, multi-channel digital audio and HDCP
Triple shielded, low attenuation cable design
26K gold plated connectors
The patented, unique RF-BLOK full metal connector greatly reduces interference and provides increased EMC shielding without the need for a ferrite core
Supports HDTV resolutions up to 1080p and DVI-D resolutions up to 1920 x 1200
HDMI compliance certified
Available in lengths of up to 20m
Supports resolutions of 720p, 1080i, and 1080p
High-bandwidth Digital Content Protection (HDCP) compliant
Patented RF-Blok™ connectors
Shielded, twisted pair 26 AWG wire construction


Why choose TrueAV HyperLink HDMI Cables?
Fully HDMI Compliant
All of our HyperLink HDMI Cables, are fully HDMI compliant. The 5m, 10m and 15m, 20m lengths have all successfully passed testing for HDMI compliance. This means you can be assured that they will work consistently and reliably with all your HD equipment.
RF-BLOK Shielded
Our patented RF-BLOK connector avoids potential high pressure and temperature damage that can occur during the injection moulding process. The one piece, seamless, all metal solder-less design results in superior shielding, low resistance, and extremely high reliability without the need for ferrite cores, making the cable less stressed and more flexible.
Low Attenuation Cable Design
Our advanced low attenuation cable uses the highest quality copper and triple shielded construction to enable perfect image and sound reproduction at longer transmission distances.
Value For Money
HyperLink HDMI Cables offer incredible value for money. We're confident you won't be able to find any equivalent, high quality long distance HDMI compliant cables at such competitive prices.
These cables are rated for in-wall installations.
HDMI is a much smaller and user-friendly connector than the DVI connector. The specification handles high-bandwidth, uncompressed video and multi-channel digital audio as well, all in one cable.
High-Definition Multimedia Interface (HDMI) is the first industry-supported, UNCOMPRESSED audio/video interface. This cable connects HDMI devices for DVD, satellite boxes, LCD, projectors, plasma and HDTVs. HDMI provides an interface between any HDMI-enabled audio/video source, such as a set-top box, DVD player, and A/V receiver and an audio and/or video monitor or projector.

HDMI supports standard, enhanced, or high-definition video, plus multi-channel digital audio on a single cable. It transmits all ATSC HDTV standards and supports 8-channel digital audio, with bandwidth to spare to accommodate future enhancements and requirements.

TrueAV High Speed HDMI Coppper based series


Double shielding on the cable (AL + Braiding) for better EMI result
Gold plated contact
Pure Copper composes conductor
Shielded, twisted pair 26 AWG wire construction
High-bandwidth Digital Content Protection (HDCP) compliant
Features...
New Release - support HDMI 1.3 (Category 2 - 1080p)
Fully support 1080p
100% Digital - No compression, no conversion
Pure digital picture and sound direct from the source
All your HD video and audio in one cable
Replace up to 8 audio and 5 video cables
Type A connector (19 positions) carries a single TMDS link and is permitted to carry signals up to 165Mpixels/sec.
3.3 Gigabits/second of bandwidth to support video and multi-channel audio in a single cable
Bandwidth to spare for HDTV - 1080p capable and beyond and over two times 1080i bandwidth
Backwards compatible with DVI and DVI-HDTV
Uses HDCP for content protection, allowing access to high-value programming
All current HDMI products support 480p, 1080i and 720p, even 1080p
We sell all new products with 7 Day Replacement Guarantee* *If the merchandise malfunctions due to a proved manufacturing defect by agency, the customer can exchange it within 7 days at trueav.com for the same model by returning the merchandise in its original condition and packaging without any scratch, together with its sales receipt and unwritten warranty card.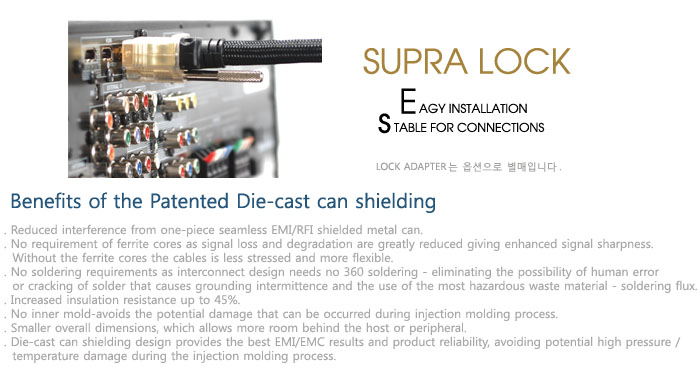 Specification...
Available Production Lengths: 0.5m, 1m, 2m,3m, 5m, 10m, 15m, 20m, 25m
100% open and short test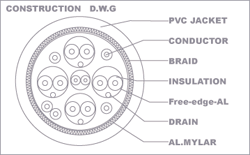 Conductor resistance: 5 Ohm (max.)
Contact Resistance: 30m Ohm (max)
Insulation resistance: 10M Ohm/DC300V at 0.01sec
Differential mode impedance: 100+/-15 Ohm, assembly, 100+/-10 Ohm, cable
Signal pairs attenuation:
=< 8 dB, 300 KHz to 825 MHz
=< 21 dB, 825 MHz to 2.475 GHz
=< 30 dB, 2.475 GHz to 4.125 GHz
Intra-pair skew: < 151 ps
Differential mode FEXT: > 26 dB Above testing conditions are available for length less or on 25 meters

TrueAV Advanced for HDMI 1.3 version Performance Capabilities

12-Bit Color**
Smoothest Gradation of Colors
Greater cable capacity for support of 12-bit color, also called Deep Color™, available from advanced HD sources and displays. Greater color depth, from 8-bit to 12-bit, allows more detailed gradations of individual colors for the display of billions of colors.

x.v.Color™***
Extended Color Range
Ideal for advanced HDTVs with xvYCC color, also called x.v.Color. x.v.Color widens the number of available colors for 1.8 times more colors than standard RGB.

Dolby® TrueHD and DTS-HD™
Lossless Surround Sound
Greater cable bandwidth for support of Dolby TrueHD and DTS-HD lossless surround sound, available on Blu-ray Disc™ and HD DVD™ movies.

HDMI-CEC
Automated Audio/Video Control
Support for the HDMI Consumer Electronics Control channel, enabling automated audio/video component setup and control.

120 Hz Display***
Smooth Video™ Refresh Rate
Ideal for HD components with 120 Hz refresh rates, providing smoother, more fluid video reproduction.

HDMI is a data superhighway for digital video and audio. For the best high definition experience, use an HDMI cable that delivers all the picture and sound data your HD components require. Get all your HDMI questions answered at TrueAV.com/HDMI.
MODELS : TrueAV Hyperlink DVII Coppper based series
| | | | |
| --- | --- | --- | --- |
| MODEL | type | length | AWG |
| THD0050 | DVI-DVI | 5.0m | 24AWG |
| THD0100 | DVI-DVI | 10.0m | 24AWG |
| THD0150 | DVI-DVI | 15.0m | 24AWG |
| THD0200 | DVI-DVI | 20.0m | 24AWG |
| THD0250 | DVI-DVI | 25.0m | 24AWG |
| THD0300 | DVI-DVI | 30.0m | 24AWG |